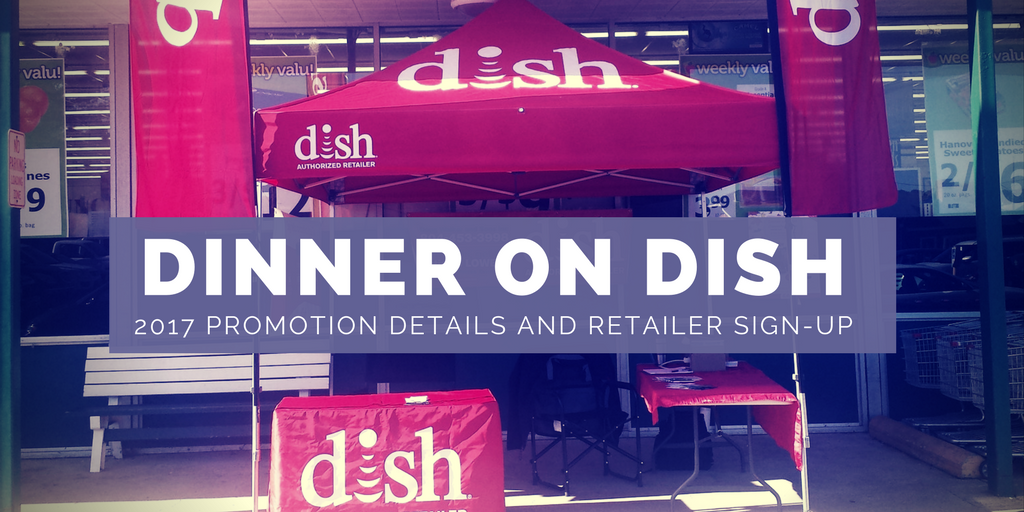 It's almost time for All-Systems annual DISH Dinner on DISH promotion!!  This year's promotion will run from November 1st 2017 through November 23rd 2017.
Customer's who sign up at the retailer's grocery store location will receive a $100 gift card to the grocery store, making their holiday dinner "on DISH".  We also this year will be utilizing our grocery store locations as a donation delivery site for food bank charities as  part of the DISH Cares program.
Here's how the program works:
 Program  Overview
Program will run from November 1st to November 23rd
Retailers will choose one grocery store location to partner with.
Retailers will choose one local food bank to partner with. You can visit www.foodpantries.org or www.ampleharvest.org to find ones in your area. 
Retailers will be provided a promotional kit which will include flyers, a banner, and a poster upon placing a marketing order in BrandDRIVE promoting Dinner on DISH.  If no advertising is purchased, retailers must purchase the kit (co-op eligible).
Print and Radio ads will be available for purchase on BrandDRIVE for promoting your event.  All past promotion contest winners have utilized pre-marketing tactics to drive traffic to their locations.
Retailers will also receive customized graphics for social media use and email marketing, as well as a press release to send to local press agencies.
Requirements
Retailers will setup at the grocery store location for a minimum of 3 consecutive days (1 weekend) during promotion period.  Must be set up 5 pm through store closing on Friday, and all operating hours Saturday and Sunday.
Existing Retailer storefronts or mall locations are not allowed.  This promotion is specific to grocery stores.
The setup must include a DISH branded tent, a portable kiosk or table with DISH table cloth
Retailer must register to participate and order marketing and promotion kit by October 15th
Retailers will use a dedicated Axiom login provided by DISH during the events
Retailers will provide a $100 gift certificate to the grocery store per DHA customer sold for promotion from November 1st-23rd
Retailers will need to complete the event reimbursement form which includes, two pictures of event setup, a list of qualifying accounts and a copy of the receipt for gift cards by close of business on December 8th.
DISH will issue a credit memo for $50 per DHA customer account built in Axiom between November 1st and 23rd.  The Credit Memo will be issued by December 15th.
Customers must be installed on or before December 8th.
Grand Prize
The Retailer with the highest number of activations driven from promotion will receive a two-night stay in NYC to enjoy a play on Broadway of their choice or receive a credit memo in the amount of $1,500.
In the event of a tie, the winner will be determined by the highest Hopper attachment % for promotion activations
The winner will be chosen and announced the week of December 11th
Register
Click to complete the online form to register your business for Dinner on DISH 2017.  To participate you must register and have purchased your kit by October 15th 2017.
Get Reimbursed
Click to complete the online form to get reimbursed following your Dinner on DISH event.  You must complete this form by no later than Friday, December 8th 2017 to get paid.